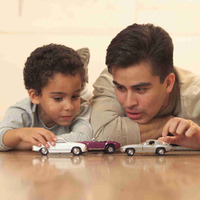 The title of this piece is a little misleading. It should be the "Any Adult Person's Guide to Playing with Children."
As a preschool director, I'm sort of a play professional, but even I sometimes struggle with playing with children. I'm comfortable doing it, I enjoy doing it, and I think I'm generally good at it. But, especially when my own child was very young, I sometimes found it challenging to play for extended periods of time. At some point, I would think I should be doing something else, something "more important."
At a workshop on Conscious Discipline this Monday, the presenter reminded us of the benefit of dedicated play time with our children. She quoted a statistic that I can't remember, but the gist was that if you spend even 10 minutes playing with your child, you build a connection with them that pays dividends.
She told a story about how hard it used to be once she and her two children got home from school every day and how frazzled she was trying to get dinner on the table. But once she made it a priority to play with her children first, as soon as they got home from school, prepping dinner actually took less time, and the evening was more enjoyable for everyone.
So, slow down. Play. Remember that play is the important thing you have to do. And if you have forgotten how to play, read this article.