From June 2017:
In parsha Shelach, Moses sends the twelve spies into the land of Israel to do a reconnaissance mission. They come back talking about a land flowing with milk and honey, but also inhabitants the size of giants. The scouts had felt like grasshoppers in their presence. Upon hearing this report, the Israelites are terrified.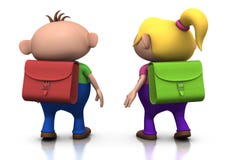 I imagine that some of our students entering kindergarten next year might feel like grasshoppers when they walk through the doors of a school much bigger than the one they've just left.
It's hard to do something for the first time. And going to kindergarten -- all by yourself, without mommy or daddy or a caregiver to walk you to your classroom door -- is a big first. But it's also one you'll never forget.
I hope that your child's first day of kindergarten, whether it'll be this September or a fews years from now, is beautiful and meaningful. Your child might go in feeling like a tiny little grasshopper, but on the way out, full of pride and accomplishment, they'll feel like a giant.